Latest News from Skidmarx
April 2020
Race screens for latest superbikes
Skidmarx have added race screens for the latest generation Ducati Panigale V4, Yamaha R1 and BMW S1000 RR to their range.

Based on screens used by 2019 BSB Champ Scott Redding and road racing superstar James Hillier at the TT and NW200, Skidmarx racing screens are manufactured in the UK from 2mm cast acrylic, which is 33% lighter than the material used for road bikes. The thinner design not only saves weight but also offers better optical clarity than road-going screens - crucial for short circuit and road racing, where riders spend a large proportion of every lap tucked in behind the screen. Skidmarx Race Screens are available in Standard (superstock), Double Bubble/Tall and 2-Piece TT Tall versions. Skidmarx also offer a made-to-measure service for riders with specific requirements. Screens can be supplied pre-drilled with 6mm diameter holes, so they can be fitted to standard fairings using race fixings, or undrilled to allow custom fitting to race fairings. The three new versions fit the 2018-on Ducati Panigale V4 and V4 S, Yamaha R1 2020 models, and 2019-on versions of BMW's S1000 RR. Screens are also available for older models.
RACE SCREENS
---
February 2020
Big screen adventure for R 1250 GS
Skidmarx have introduced a selection of taller and wider screens for BMW's best-selling R 1250 GS adventure sport bike. Made in the British motorcycle bodywork specialists' Weymouth factory, using 4mm cast acrylic, the tall screen (pictured above) measures 43cm high by 41cm wide, which is 5cm (2 inches) taller than the factory-fitted screen. For riders seeing maximum coverage, the Tall & Wide screen (below) is 48cm by 44cm, adding 10cm (4 inches) to the height and 3cm (1.2") to its width. Like all Skidmarx screens, they fit directly onto the original mountings, for a straightforward job - no drilling or cutting, and no fiddly brackets or fixing kits. Available in clear, light and dark tints, there is also a standard size version. The R 1250 GS screens can be fitted to the R 1200 GS (2013 on) as well as the 1250 model.
R1250GS Tall Screen R1250GS Tall and Wide Screen R1250GS Standard Screen
---
December 2019
Tall & Wide Screen for Tenere 700
Skidmarx have developed a Tall & Wide Screen for Yamaha's new Tenere 700 adventure sport bike. Made in the UK from 4mm cast acrylic, so it won't flex in the wind, it measures 35cm tall by 35cm wide, providing more than double the coverage of the factory-fitted screen. Like all Skidmarx screens, it's designed to fit directly onto the original mountings, for a straightforward job - no drilling or cutting, and no fiddly brackets or fixing kits. Available in clear, light and dark tints.
TENERE TALL SCREEN Aerofoil Winglets
---
October 2019
RACE PRODUCTS REVIVAL
Race Products – one of the UK's longest-established motorcycle race bodywork producers – has been given a new lease of life by Skidmarx. Founded in the 1970s, Race Products specialise in grp (fibreglass), supplying club racers, track day enthusiasts and even world championship winning teams with race bodywork, including fairings, seat units and mudguards. The company's future is now secure, following a buy-out by Skidmarx, who have moved production to their factory in Weymouth.

"We're already well known in the paddock for our race screens" says Skidmarx director Matthew Dench (pictured left). "Adding bodywork to our range makes perfect sense, because now we can offer customers a complete service and we have complete control over quality, start to finish."

Co-director Ian Merrill (pictured right) adds; "Our priority is to get get production of current lines up and running. As we move into next year we'll be looking to start work developing bodywork for popular models, and we'd be interested to hear suggestions from anyone."

The current range covers most popular track bikes, from the Aprilia RS125 to the Yamaha R1, including 'modern classics' like the Honda NC30 and Suzuki RGV250.
---
June 2019
Skidmarx enhance race relations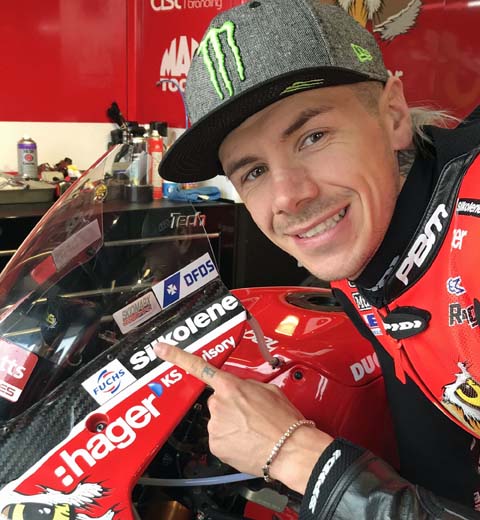 Skidmarx enhance race relations by expanding range of track screens to include the Ducati Panigale V4R and Kwasaki ZX-10R. The British manufacturer has a long racing pedigree and currently supplies screens for the PBM Be Wiser Ducati BSB team and also James Hillier's Quattro plant Kawasakis, which he raced to podium finishes at the NW200 and TT.

"Skidmarx have done a top job with my screens for this year. Quite an important piece of the puzzle for the high speeds of road racing" comments James.

All Skidmarx racing screens are manufactured in the UK from 2 mm cast acrylic, which is 33% thinner than the material used for road bikes. This is partly to save weight but also because it offers better optical clarity, which is important for riders who spend most of a race tucked in behind the screen. Race screens can be supplied pre-drilled with 6 mm diameter holes, so they can be fitted to standard fairings using race fixings, or undrilled, so that owners can customise them to fit race fairings. Available in standard (super stock), double bubble and TT Tall sizes, Skidmarx even offer a made-to-measure service for riders with specific requirements. Ideal for competition and track day use.
---
May 2019
Road & race screens for pre-injection bikes
Skidmarx offer a huge range of screens for pre-injection sportsbikes, with designs for use on road or track. Made in the UK from 3mm cast acrylic, the road screens come in standard or double bubble styles, in clear or tint, and are direct replacements for the original equipment. For track use, the race screens are made from 2mm cast acrylic - the same material used in the screens supplied to Be Wiser Ducati in BSB - which is lighter and provides superior optical clarity. In addition to standard and double bubble designs, Skidmarx also offer a TT Tall screen, developed for use in long-distance road races, providing extra wind-protection for riders, so they can adopt a more comfortable upright riding position. The popular Honda NC29 'Baby Blade' pictured is one of many models from all the major manufacturers covered.
---
March 2019
Skidmarx Hugger for Tiger 800 (2018 on
)
British bodywork specialists Skidmarx have updated their rear hugger for the Triumph Tiger 800 to include the XR and XC models from 2018 on. Made in the UK from GRP glass fibre in a high quality gloss black finish, it fits neatly round the adventure sport bike's 17" rear wheel, shielding the rear shock absorber and suspension linkage from grit and grime thrown up by the back tyre, and has an integral chain guard too. Designed as a direct replacement for the Tiger's chain guard, the huggers is supplied with a tailor-made fitting kit and retails for £99.95 including VAT. It fits all XR and XC models from 2015 to the current 2018 design. For riders who want to keep weight to an absolute minimum, a carbon fibre version is also available, weighing approximately 1/3rd less than the GRP version.